As Pakistan and India were together before the independence, so, the living of both countries has many similarities. If we talk about the dresses, both countries have almost the same type of dresses with little variance. We have an article on our website regarding casual Pakistani Dresses for women that you can check. Now, here we will talk about the Casual Indian Dresses for those who want to have knowledge about Indian dresses and their styles. India has 28 provinces so each region represents its own culture regarding food, clothes, living styles, etc. 
As mentioned in the title, here we will tak about Indian Casual dresses for ladies. Casual dresses mean that you can wear them in daily life and they are easy to carry. By wearing casual dresses, you can complete your daily tasks without any hurdles. In contrast, formal dresses are best for festivals, and weddings as are heavily embroidered. However, there are some dresses that you can wear casually and formally as well depending on the design and style. You will get the complete details below.
Indian Casual Dresses for Females
When we talk about casual dresses, it means we are talking about daily wear or office-going dresses. As you know today we will talk about the different types of casual Indian dresses so, let's start to talk about our topic. 
Lightweight Sarees
In India, wearing a saree is a tradition and Indian women wear sarees at different functions. However, it is a cultural dress and also be seen worn by housewives. However, for daily use, sarees are made of simple and lightweight fabric with no or very little embroidery so that females can easily carry them and do their daily activities properly. 
You can style up your simple saree with a shiny blouse and some ethnic jewelry and you will use the same dress in any small casual gatherings. 
Anarkali dresses
Anarkali is a long frock in an umbrella cut and has a big flare. It is a traditional dress that originated from the Mughal era. However, the Anarkali dresses are also in fashion these days. If we talk about original anarkali dresses, they were very heavy and full of embroidery that we can't use in our daily lives. So, nowadays, this style is in trend with some casual look that females can easily wear.
Kurta with Trouser
The A-line kurta is a closet variant of the Anarkali dresses and has a more casual look. Those ladies, who don't want to wear the Anarkali style can use an A-line Kurta with trousers as an alternative. This design has an A-shaped cut and a wide flare and you can easily use it in your daily routine. 
Besides the A-line Shaped Kurta, the straight Kurta with trousers is also in trend for the wear. You can stitch it according to your length from knee to ankle. It creates a very classy yet simple look. If you add up some jewelry with it then you will be ready to go for any casual occasion. 
Shalwar Qameez
In India, Shalwar Qameez is common in Punjab. Usually, Shalwar Qameez is dressed up with a dupatta. There are different types of shalwar that can be worn with long and short Qameez. You can not only use this dress casually but also at wedding functions to create a "Desi Look". For the wedding, you can go with some shiny and embellished fabric.
Churidar Pajama with Kurta
Churidar Pajama is also one of the traditional dresses that you can pair up with a Qameez/Kurta/or frock. The Pajama is tightly fitted below the knee and it is very long stitched fabric gathered around the legs making bandle shape pattern. You can wear this dress casually at any event as it looks great.
Long Skirts
If you have casual outings then a skirt could be the best option. You can design the skirt in a different style and pair it up with a shirt or ethnic top. Skirts are common and look very trendy even if you wear them casually. To add some spice to your dressing, you can wear some ethnic jewelry, such as a necklace, bangles, etc. However, in South India, a skirt with a blouse is a traditional dress.
Indian Plazzo Dresses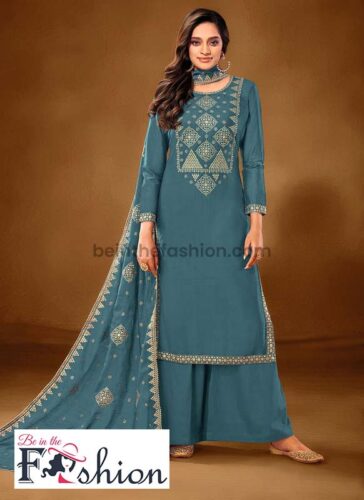 Among all other trendy fashions, Plazzi dresses are also in trend and they create a classy look. Palazzo is a wide-legged trouser. You can design the Plazzos with different styles of Kurta. However, you can also style up your dress by taking Duptta with it for a more elegant look. It is a simple but casual look and you can easily adopt it for your office wear. 
Dhoti Pants with Kurta
Dhoti Pants with a short kurti are in trend these days and it is one of the traditional outfits in India. ThesePants are drapery stitched trousers having an elastic waistband. Traditionally, dhoti is a menswear that is a huge un-stitched clothes wrapped around the waist to cover the lower body. However, now it has a modern version and young girls love to wear these designs. This dress is easy to carry and you can wear it casually at your office, university, or casual gatherings. However, you can also use this design for formal dresses that you can wear at festivals or weddings.  
Conclusion 
Besides these, there are many other designs that you can style up and add to your casual look. As we know India has a vast culture so each culture has its own specialty regarding dresses. Here we cover some top Casual Indian dress designs that will add grace to your wardrobe. All the mentioned style in this article has traditional and cultural value and now you can also wear them with some modification according to the latest trends. At the same time, you can also wear these dresses at any function, party, or wedding by adding some glamour. We will soon upload an article regarding the Indian dresses for the festivals. So, if you are interested in Indian Fashion and the latest dress trends, visit us.