In Pakistan, the wedding season has started, so shopping for wedding functions is at its peak. It is a special occasion for the family, especially for the bride-to-be, so everyone wants to look great. As it is a memorable day for the brides, they want to make it special by wearing beautiful dresses, Jewellery for Special Occasions, and a makeover to look gorgeous. Here, we will tell you about the different styles of Pakistani Bridal dresses for the different seasons. 
For the big day, every bride wants a unique and pretty look; that's why buying a beautiful dress is a wish of everyone. In Pakistan, there are a variety of bridal gowns that you can purchase from the market. You will get information about some top Pakistani Bridal Dress Trends 2023 here.
Different Pakistani Bridal Dresses for Different Seasons
In Pakistan, the wedding season starts in October when the summer is about to end and continues till February-March. These are the months when the weather is lovely, and everyone can enjoy the functions. So, brides can wear heavily embroidered dresses made of silk, tissue, etc. However, for the December-January wedding functions, bridal gowns made of velvet are also in trend, and they look very pretty. So, below are the different staples in a direction so you can choose anyone according to your choice. 
Bridal Lenga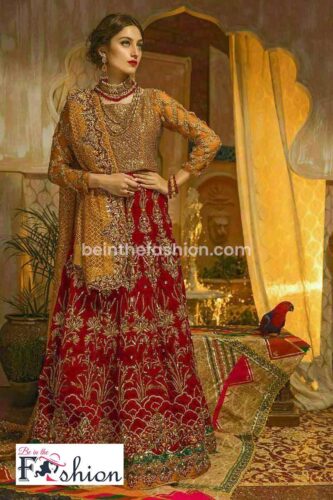 Lenga is the most wearable bridal dress in Pakistan, as it is a traditional outfit for brides. According to tradition, most brides wear red or maroon lehenga on their big days. However, now girls also wear colors other than red/maroon, and you will find many beautiful color combinations in the market.
Pakistani brides pair the lenga with a short kurti, blouse, or choli. Everyone has their own choices, and all styles of lehnga with a heavily embroidered dupatta seem beautiful. You can order a customized design if you can't find the dresses according to your choice or color.
Bridal Gowns
Bridal gowns are also in trend, and almost all brides wear them on one of the wedding function as it looks very pretty. The front open gowns paired with the flared lehenga look very elegant. These Pakistani bridal gowns are available in different colors/styles. You can visit the markets and different designers to understand the trendy style. After getting the idea, you can ask the experts to stitch customized gowns according to the style and colors. 
Bridal Maxi/Frocks
Bridal full-length frocks and maxis are also in trend, and most girls like to wear them on special days. It is a flyered long dress till the ankles or even covering the feet. These are single-piece outfits with the upper body and the long skirt-type style. However, brides style up the maxi and dresses with beautifully embroidered dupattas that increase the beauty of the dress. So if you want a beautiful and mesmerizing look, frocks/maxis will be one of the best options. 
Bridal Gharara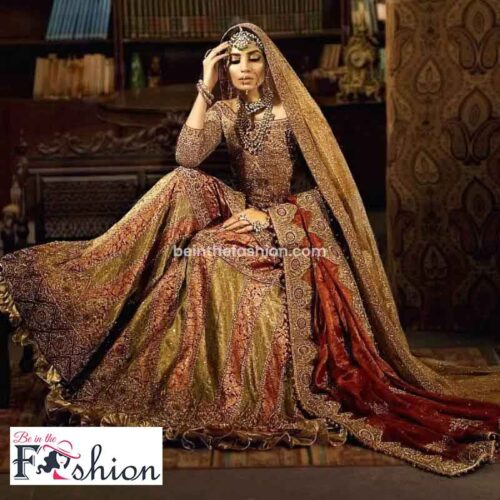 Gharara is a cultural outfit with a short mid-thigh length shirt and wide-legged pants/trousers. The trousers have massive flare from the knee to toe while till the knee, it is flat and straight. Bridal Ghararas are designed with different styles of embroidery on the shirt and trousers. Mostly, the brides wear ghararas on their mehndi function but nowadays, Bridal Gharara is also trending to wear in the Barat (wedding day). So, you can wear this style on the day of your wedding day.
Bridal Angrkha Style Dresses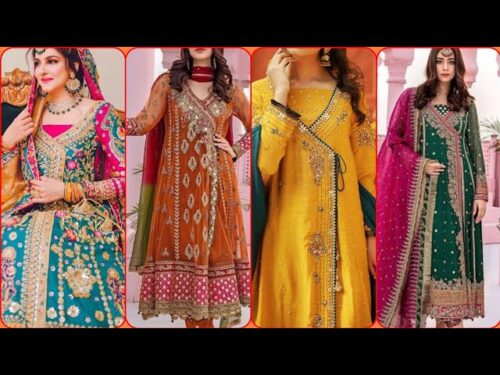 Angrkha is a style of dress that has been used since ancient times and you can design your casual and formal dresses with this style. This style is still trending and many brides wear it on their wedding functions. As a bride, you can choose this style for any of the events such as Mehndi, Barat, and Walima. You will find a variety of dresses in the Angrkha style in the market for all wedding functions so the choice is yours on which event/day you want to wear it. 
Bridal Sarees
These days, wearing a Saree at your wedding is also in trend. Most brides wear a saree on the Walima. However, you can wear it on other days according to your choice. For the brides, a lot of designers have launched sarees having embroidery on them with an embroidered blouse. Bridal sarees create a classy and elegant look. However, you can purchase readymade sarees from the market and stitch them according to your choice of fabric. 
Conclusion
Here we discuss the different styles of Pakistani Bridal Dresses for different seasons. There are many styles that you can choose but we cover some top trendy styles that are common and give an elegant look to the bride. If you think that there are some other styles that will look great on it then you should wear them. Always choose a design that you can carry easily and confidently. Carrying a dress with confidence will add grace and your personality shine out more.
Other than bridal dress design, many other things you should keep in mind during selection such as color combination, fabric, etc. Here, we cover the dress design only, but if you want the details about the colors and fabric, etc, you can comment with us. We will try to provide you with details on that as soon as possible.  
Here is one more tip don't wait for the wedding date to come closer for the shopping, especially for brides. Try to visit the markets earlier to get ideas about the bridal dresses. Bridal shopping is not as simple as it seems because there are a lot of other things that you have to prepare with the dress.
However, the article will hopefully be informative for you. If you have any other ideas, you can share them with us. We will listen to you as constructive feedback is always appreciated. Other than this, you can visit our website Be in The Fashion for the latest fashion trends that you can follow in your daily life or at any event to look trendy.