Knowing the latest fashion trends is everyone's wish so that they can keep themselves according to that to look stylish and trendy. We have some other articles regarding the fashion trends in Pakistan that cover different trends such as dresses, jewelry, and footwear for men and women. However, here we will talk about the latest Pakistani Fashion Trends for Women 2024. So, here you will know which type of dresses women like to wear and how you can wear them properly. If we talk about women's dress in Pakistan, this year long and short-length dresses stay in trend. However, there are various styles and designs that you can choose and add to your wardrobe. 
If we talk about fashion trends based on age, there are few designs that females of any age can wear with simple variations. Here we will talk about the short to medium-length dress styles that are trendy in 2024 and look very beautiful. So, those who are looking for the latest Pakistani Fashion Trends for women 2024 read the article completely. However, if you want to have a look at affordable fashion trends, you can visit our website through the given link to get updates.
Pakistani Women Fashion Trends 2024
Those ladies who love to wear short or medium-length dresses will love this article. The article will contain the trendy designs for the Pakistani dresses of short Frock or shirts. So, let us start our today topic without any delay.
Peplum Tops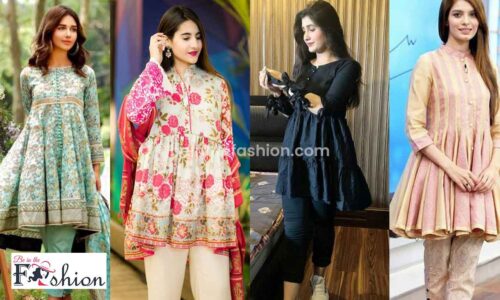 The trend of peplums is back and many famous Pakistani designers have launched peplum-style dresses this year. Peplum tops are short lengthed dresses having a flare from the waist of the top. It looks like a short Frock that you can pair up with palazzos or bell bottoms. However, you can design your casual and formal dresses in this style as it look pretty. 
Front Open Double Shirt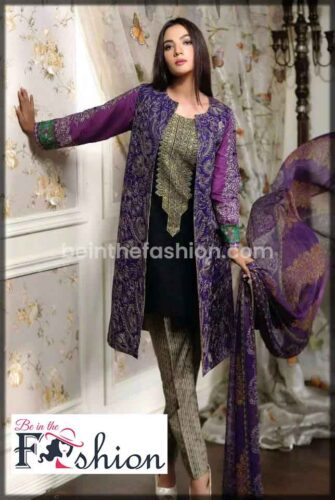 Front Open Double Shirts is one of the latest trends in Pakistan and females of all ages can adopt it. This style gives an elegant and classy look. For this style, the upper shirt acts as a jacket, has an open front slit. However, you can style it in various ways such as with a short shirt and trousers, with a blouse and pants. So, you have a choice to use this style casually and formally according to your choice. As it is very easy to carry you can wear the Front Open shirts as a dailywear. 
High-Low Shirts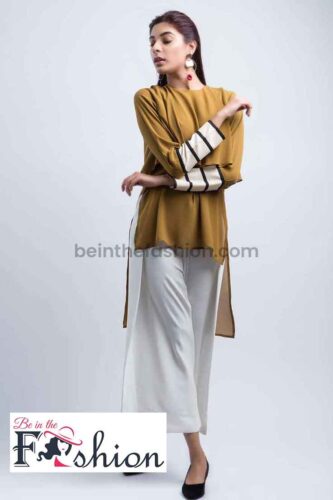 The trend of High Low shirts is quite popular this year and many designers display this style on their outlets. In this style, the front side of the shirt is of a shorter length than the backside. However, you can wear the High Low Shirts with trousers. The High-Low shirts give a modern and beautiful look. You can get this style for your formal and casual dresses. However, you can stitch Frocks and kurta in this style, but Loose Kurta with High Low style is more common this year.
Asymmetrical Hemline Shirts
Asymmetrical Hemline means that the lower part of the shirt is not straight but uneven. It sounds strange but gives a pretty and modern look. This design is somehow similar to the high-low shirts and is also very famous among Pakistani ladies. You can choose the length of the shirts according to your choice in which you think you will feel comfortable. 
Cape Style Dresses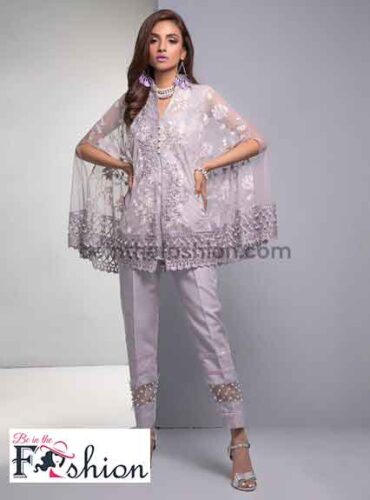 Among all other trendy dresses, the cape style is also popular and gives a very elegant look. The length of the cape varies from waist to knee depending on the design of your dress. This design looks very beautiful in formal dresses that you can wear at any event. Some girls design it in longer lengths till the knee and wear it over a simple shirt and trousers. However, you can also stitch the cape short to the waist. So, there are many ways to style a cape for a mesmerizing look. 
Half Slited Shirt
The half-slited shirts look beautiful and elephant. However, you can have a slit in the mid of the front side or on the side. Both design seems great. The length of the shirt could be any according to your choice. This design goes with the long and short length. however, you can pair up the slit shirt with jeans for a modern look or with a pair of trousers. This design of the dress is one of the best options for college or university-going girls. So, for a modern and trendy look, you can have one dress in this style. 
Conclusion
When we talk about Pakistani dresses, there is a huge variety of clothes designs and styles that come to mind. Pakistani dresses have a blend of traditional and modern or Western look. So, can find a touch of modernism in the Pakistani traditional clothes. If we talk about the Shalwar Kameez, it is a traditional dress, however, for some modernism, the Shalwar has been modified into straight trousers and you can pair it with a Kurta-style shirt. Similarly, there are many designs that you can modify according to the latest trends. 
Pakistani dresses are famous internationally due to their unique styles. As you know here we touch only short-lenghted shirts or frock styles that are popular this year. The purpose of this article is to give information about the latest Pakistani Fashion Trends for Women 2024, this article is a part of it. These are some designs that you can add to your wardrobe to make it stylish and trendy. Other than this, here are many other styles that you can follow. You should try new things by stepping out of your confirm zone. By doing this, we will explore and learn new things and learn about the latest fashion trends around the world. So, explore different platforms working in the Pakistani or international Fashion industry. Hopefully, the article will be informative. However, you can contact us with your constructive feedback. So, that's it for today, if you want more information, you can visit Be In the Fashion website.