Today, we will discuss some popular fashion trends in Pakistan that you can easily afford. If we talk about Pakistani fashion, there are a lot of things that we can discuss, such as Dresses, Makeup, Mehndi designs, footwear, Jewelry, and other accessories. However, we have discussed affordable Fashion trends in Pakistan on our website earlier. Here, you will get more information. However, here, the main discussion will be about the trendy dresses or clothing in Pakistan. 
Pakistani dresses are popular due to their beautiful and unique styles and attractive patterns. Pakistani fashion trends reflect the culture and history that the country comprises. In the Pakistani dresses, you will see the blending of modern and traditional styles, and this mixing comes out beautifully. Because of the uniqueness of the styles and designs, the demand for Pakistani clothes is high. From simple and casual to embellished and formal dresses, each style is unique due to its patterns, beautiful colors, styles, etc. So, below, we will discuss some affordable Fashion trends in Pakistan regarding clothes. So, go ahead and read the article.
Affordable Pakistani Clothing Trends
When we talk about fashion trends, the first thing that comes to mind is that it would be costly. It is not valid. If we use our ability to choose trendy things wisely, we can bring them under our budget. Here, our primary focus will be on trendy Pakistani clothes, so we will tell you about some of the latest dress designs that are in trend and pocket-friendly.
Digital Printed Dresses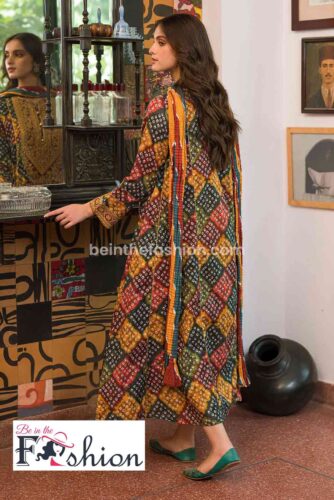 This year, the Pakistani Fashion industry is dominated by digital printed dresses. Different Pakistani brands and the local market have various designs of digitally printed dresses, either stitched or unstitched. Digital Printed clothes have different patterns, such as geometric shapes, cultural motifs, or designs/patterns inspired by nature. However, digital prints usually have vibrant colors that could be used for clothes design and look very pretty and fascinating. 
Statement Sleeves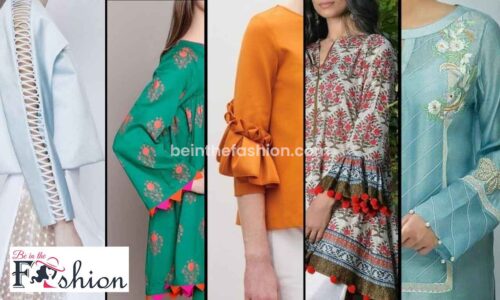 Statement sleeves are in trend in Pakistani these days because of their beautiful look. These sleeves can enhance the beauty of the simple dress. There are many styles of statement sleeves, such as ruffled, bell, and balloon sleeves. Nowadays, in Pakistani dresses, sleeves are the main centre of focus because of their beautiful and unique styles. Statement sleeves are one of the signature styles of Pakistani dresses so Pakistani dresses could stand out in the crowd due to their unique styles and designs. 
Mixing Traditional and Modern Styles
If we talk about traditional Silhouette styles, they are still in use as they are timeless. However, these days, with some modern style variations, it has become more trendy. So, these contemporary silhouette designs, such as low-high hemlines, asymmetrical patterns or designs, or cape styles, give a new life to the Pakistani clothing industry. You will find modernism and a touch of traditional styles in the dresses that look effortlessly beautiful. 
Floral Prints
Other than digital prints, floral prints remain very popular, especially among young girls this year. These floral prints are in different sizes and patterns and are mostly used for all-over clothing, which means that shirts and trousers are of the same design. The floral motifs on the dresses look very beautiful, giving a fresh look to the Pakistani dresses. The clothes with floral motifs are suitable for young and aged women. So, females from all age groups can use floral printed dresses.
Trendy Dresses Colours
If we talk about 2023, pastel colors for clothes in Pakistan are a significant trend. Everyone loves to wear light but refreshing colored dresses. However, among the pastel hues, you can add the mint green, lavender, peach, powdered/baby blue colors, etc., in your closet for a sophisticated and trendy look. 
Jumpsuit with Long Shrug
A style that is a mixture of Western and Eastern looks and in trend, is a jumpsuit with a long shrug. It looks stunning and gives a unique look. You can use different prints and colors of the shrug according to your jumpsuit. This dress suits parties, but you can easily carry it daily. For parties or events, you can select heavily embroidered and shiny shrugs; however, for daily wear, the little embroidery or printed shrugs will be the best options as they are easy to carry. 
Co-Ord Sets
Co-ord sets, a new trendy clothing style in Pakistan, consist of two pieces: shirts and trousers (bottoms). Both pieces have the same pattern, giving a uniform look. Co-ord sets have prints of different patterns on them. However, for the Co-Ord sets, the length of the shirt is usually short with the loose trousers. This trend is in great demand this year and looks very stylish. It gives you a modern yet trendy look. Various brands launch co-ord sets, so you can go to your favourite one and get one.
Conclusion
Among the different affordable fashion trends in Pakistan, here we talk about Pakistani dresses. Pakistani dresses are trendy because of their versatile style and beautiful patterns. The clothing trends we discussed in this article have uniqueness and look very pretty if you wear them correctly. Having a trendy dress and wearing it is not enough; but you must know how to style it appropriately to look great. So, it is essential to choose a style or design that fits your body and gives you confidence. 
Other than trends, we also look for pocket-friendly dresses. There are a lot of ways that you can make your dresses affordable. If you find designer dresses expensive, you can visit the local market, purchase the clothes, and stitch them according to your choice. It will be within your budget, and you will get your trendy dress. However, many brands sell dresses at affordable prices with high-quality clothes. At the same time, designer dresses are the best way to kow about the trends, so if you want to buy something from the local market, you should visit different outlets once to see the designs, prints, and fabric. It will help you a lot in purchasing clothes from the market as you will have a clear vision of the design and fabric that you want to buy. Hopefully, the article will be informative for you. However, you can contact us and give your constructive feedback.