Today, the topic of our discussion is Casual Fashion Trends in Pakistan. Before that, we published an article on Pakistani Fashion Trends for weddings. So, today's article will cover the different trends that Pakistani people can follow daily. Wearing casual dresses doesn't mean that you have to wear anything. However, we can create a trendy and elegant look by following everyday fashions. 
Generally, we can only wear formal and heavy dresses at some times. If we say we can wear heavy embellished dresses daily, then it will be wrong. In our daily life, we have to do a lot of things/tasks, so all of us prefer that kind of dress, jewelry, etc., that is easy to wear and gives us comfort. Now, it is up to you how we can style up our casual dresses to look great and classy. It needs our little time and effort, and we can do it. However, below, we will tell you about the Casual Fashion Trends in Pakistan, so read the article carefully. 
Pakistani Casual Fashion Trends
Here, you will get information about the latest casual fashion trends in Pakistan, such as dresses, jewelry, footwear, etc. So, Let' start.
Casual Pakistani Dresses 
When we talk about casual dresses, they are easy to carry and comfortable. However, we can add some stylish look to casual dresses by making some effort, such as designing them differently, by adding beautiful leaves or skirmishes, etc. The fusion dresses (a mixture of Western and traditional styles) are common nowadays and look very pretty. For example, wear a Kameez or short/long Frocks with jeans and pants. However, below are some ways to style up your casual dresses.
Long Straight Shalwar Kameez

Bootcut trousers with short/long Frock

Lightly embellished dresses

Jumpsuits with simple printed shrug

Digital printed dresses

Plain Kurta & trousers with Organza Dupptta
These days, Causal Chic is the latest fashion trends in Pakistan, and it looks very classy. If you are confused about Casual Chic, it means a fusion or combination of casual and dressy elements to create an elegant and comfortable look. 
Casual Jewelry
Just like the dresses, we can't wear a lot of jewelry all the time. At the same time, putting on some accessories makes your personality presentable. So, for daily life or small casual gatherings, lightweight jewelry items are preferable. If we talk about jewelry items, it has a lot of things, such as rings, earrings, necklaces, bracelets, anklets, bangles, etc. We can select any minimal jewelry item to elevate our casual look. Don't try to wear different kinds of jewelry simultaneously because it will negatively impact your personality and fashion sense. So, you can wear a simple necklace having a small pendant on the chain, small earrings,  minimal bracelets, etc. However, you can choose the jewelry according to your dress designs. 
Footwears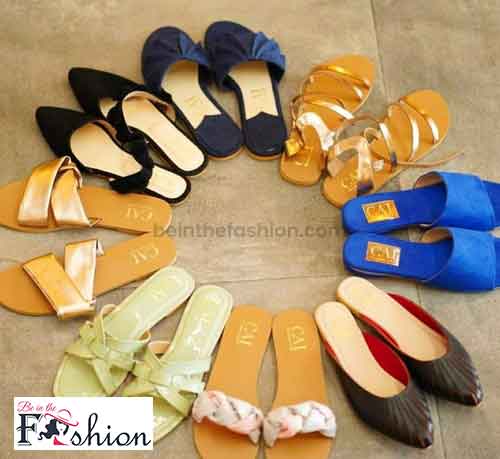 Our dressing needs to be completed with footwear. There are many kinds of footwear that you can choose with your dresses. However, we are talking about casual trends, so here you will get the details about casual footwear you can wear daily. Usually, casual footwear includes flat sandals, Khussas, Sandals with little comfortable heels, Joggers, Sneakers, etc. You can pair up these footwear with the dress.
Dailywaer makeup
Makeup plays an essential role in elevating your personality. You must know which type of makeup you can put on at which time and event. If you want guidelines, we have an article about makeup for special occasions that will help you. We use makeup to enhance our features as it gives us confidence. When we talk about the casual look, then we must think about which type of makeup we choose that will not destroy our casual look. If we talk about the daily Makeup, we must go with a minimal look to make our look presentable. For daily life, we can use a lightweight foundation/BB or only cover the spots or discoloration with concealer with mascara and some tint/matte lipstick. 
Hairstyles
When discussing our appearance, at any event, or in daily life, our hairstyle must be on the spot. If we dress up nicely with some pretty jewelry and makeup but ignore our hairstyle, it can ruin our complete look. If you want to open your hair, you should comb it properly. However, we can't perform daily life tasks properly with open hair. So, you can tie your hair using different hairstyles such as ponytails, braids, buns, etc. 
Importance of Knowing Fashion Trends
If we talk about fashion, all of us need to know about it. So, knowing the latest fashion trends and understanding them is a need of life. Having Fashion trends knowledge, we can present ourselves in front of the world confidently. So, we should not feel ashamed or hesitant to know the latest trends. As we cover the Casual Fashion trends in Pakistan, we must keep our eyes on worldwide fashion. Presenting ourselves according to the latest trends represents our personality. Below are some reasons to know the updated trends around us.
It gives self-confidence.

It can inspire creativity; for example, if you know the ongoing trends, you can style yourselves by just keeping those trends in your mind.
In short, fashion is a tool that represents personal expression and helps in identity formation. 
Conclusion
So, here we cover the casual Fashion Trends in Pakistan, including dresses, jewelry, footwear, and hairstyles. When we talk about Fashion, we can't ignore any of these. If we know all of these things, we will be able to attend any event, either formal or casual, with great confidence. You can also modify some trends according to your taste, and it will show your creativity. One of the best ways to know the updated trends is to read Fashion magazines, attend fashion-related events, have some social, and visit fashion boutiques and local markets. It will help you understand which types of dresses, accessories, etc, are in fashion. Hopefully, the article will be helpful for you. However, if we have any queries or suggestions, you can contact us. We would appreciate your constructive feedback.