Are you going to attend the wedding, then you will be looking for the Mehndi designs? In Pakistan, it is considered compulsory to apply Mehndi on your hands or feet if you have to attend a wedding. However, for the brides, it is an extraordinary day, so everyone pays extra attention to the bride's preparations to make it more memorable. Applying the pretty design on the hands and feet of the brides is a significant and fundamental part of wedding preparations. So, here we have uploaded some beautiful and trendy Bridal Mehndi for Hands and Feet.
Mehndi has a cultural value and is considered precious in many cultures. Having mehndi color on the bride's hands and feet is a way to celebrate happiness. According to some old sayings, if a bride has a dark colony of henna, her husband loves her a lot. You can say that Mehndi is considered a method of happiness and prosperity for families. So, coming back to our topic, " Bridal Mehndi for Hands and Feet," let's discuss it in detail.
Bridal Latest Mehndi Designs
Here, you will get the different designs and patterns for the Bridal Mehndi for Hands and Feet according to the latest trends. You will get the long and short/minimal mehndi design from this article.
Mehndi Designs for Hands
You can color your hands with the different designs of Mehndi according to your choice. Here, we provided minimal and long mehndi designs for wedding season so brides could select which they liked the most.
This Mehndi design has different Mehndi patterns, such as flowers, Motifs, leaves, peacocks, etc, with some lovely statements that show the love between bride and groom. Usually, it is a long mehndi design that includes whole or half-arm hands so you can get your favorite love quotes in your hand neatly. However, if you want, if you apply it only on your hands, the choice will be yours, or you can consult with your Mehndi Artist.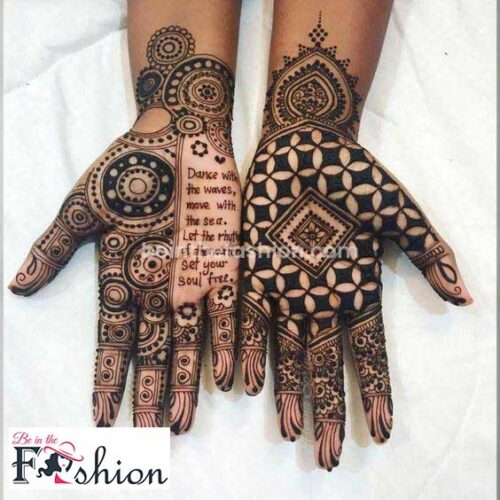 Peacock Motifs Mehndi design
It is one of the popular Mehndi designs, having the Bog/small peacock shape motif assembled with other Mehdi patterns. This is a trendy Mehndi design and looks very interesting and unique. It is a front-hand mehndi design; you can take some ques/hints about this mehndi design from us.
Trendy Bride & Groom Portrait Mehdi Design
These days, another trendy design for the bridals is the portrait Mehndi design. It has a sketch of the bride and groom on the front hand. There are many ways to put these mehndi designs with different designs. It is an artistic mehndi design that looks stunning.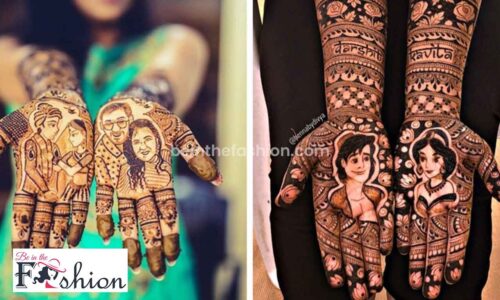 Some brides don't like detailed and long-length mehndi designs due to a strong smell, many colors on their hands, or some allergies. So, they prefer to apply some minimal mehndi designs. This typoe of mehndi includes a small round on the palm or back of the hand with filled fingers around the nails with henna. However, you can also apply some little flowers or leaves, etc., patterns to have some henna hints on your hands and feet to fulfill the cultural value.
Mehndi Design for Feet
Just like hands, brides also apply henna on their feet in various ways. So, below are some henna designs for the bridal feet. Some brides demand to have the same design of mehndi on the hands and feet. Some brides who like mehndi a lot choose some detailed design covering their feet and legs. However, here we have provided you with some designs you can choose according to your wish.
It is one of the minimal mehndi designs and one of the best option for those brides who loves to apply simple mehndi. This kind of design looks very pretty and elegant, not only on the hands but also on the feet. Mandala Mehndi designs have rounded patterns in the middle and some patterns on the fingers. If you want to go with more, you can also apply mehndi on your legs.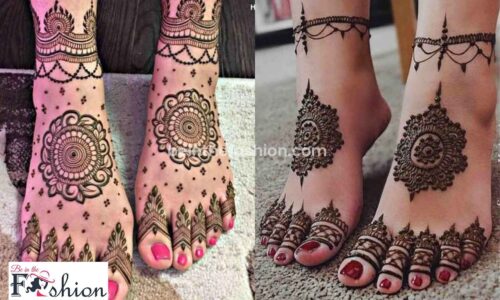 If you are a mehndi lover and want to have some design on your feet and legs, then it is the best option for you. It is one of the trendy designs used by different celebrities. However, you can modify the patterns according to your choice to make them different.
It is also a simple mehndi design for brides who want to go with minimum henna. However, the subtle designs are in trend and look beautiful. You can apply different types of tiny patterns. Below, we have provided an image so you can take an idea and use it according to your ways. 
Borderline mehndi designs look stunning as they cover the side/border of your feet with the toes. It is one of the best Mehndi designs for the bridals that you can design in various ways. However, if you want some detail with this design, you can extend the pattern with some flowers or leaves, etc.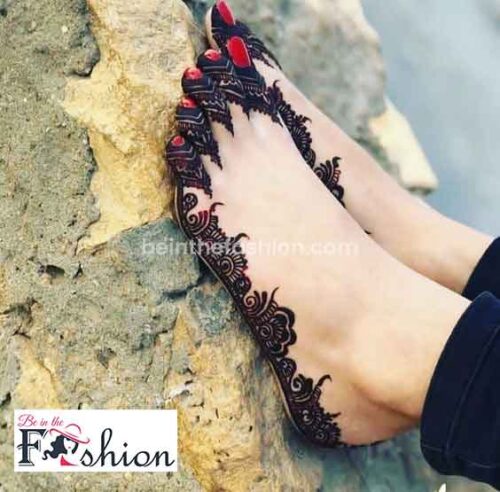 Conclusion
Here, we have shared the latest and trendy design of Bridal Mehndi for hands and feet. These are a few designs that you can select for your big day to make it memorable with the henna colors. If you can't choose the best one, ask your Mehndi artist for suggestions. Here is the thing: you don't only see the mehndi design but also the size of your hands, which means that some people have small hands. So, brides with small spaces should choose the designs accordingly. Hopefully, you liked the article and got the designs for your wedding. However, you can share these designs with your family and friends.
However, if you want to see more bridal mehndi for full hands, you can visit our website. At the same time, you can get the latest updates about the different fashion trends in dresses, the best remedies for beauty, and relevant things from our website. However, if you want some more details or have any suggestions, you can contact us. We are open to hearing your constructive feedback.