Are you a mehndi lover who loves to put on mendi on hands and feet for the color? Then, you will definitely want to get a dark and beautiful color. We know that attaining a dim or light color of your mehndi designs on the hands and feet makes everyone sad. So, here we have shared some tips for the Henna Color Intensifiers that you can get from your home easily. The dark color of Mehndi doesn't look only beautiful but a center of attraction for all especially if you are a bride. One of the best tips is to apply natural mehndi on your hand at least one day before the main event as it gets darker slowly.
Apply mehndi designs on the hands and feet is a way to celebrate and happiness for women. Females of all ages love to get the color of henna on their hands and feet. However, the choice of designs could be different, some want simple and minimal designs, while, others who like the henna color and fragrance a lot apply detailed and heavy designs. You can check the mehndi designs for occasions from our website as we have different mehndi designs and patterns. Now, let us move back to our topic, the Henna Color Intensifier.
Ways to Darken the Hands and Feet Mehndi
Below, we have shared some easy tips to dark the Mehndi color by using simple products. We can say that products such as Henna Color Intensifiers not only help the darkening of the color but also keep the color long-lasting. So, go down to check the tips and grab them from your home now to get the beautiful Mehndi color. 
Wrapping the Mehndi Design
You will get the beautiful dark color by wrapping the Mehndi designs. Here wrapping doesn't mean that you have to cover your hand with some things but it means overlaying the designs on the previous one. It could be tricky but gives the best result. So, for a better result without spoiling the designs, it is suggested to ask any artist for the wrapping. However, if you have confidence and great command, you can also do it by yourself. Through the wrapping, you can get the darker shade of what you got earlier. Just be careful while doing the wrapping to avoid the design from spoiling.
Leave Henna for a Longer Time
To get the dark color of the mehndi, you should have some patience. It is best to apply mehndi designs at night and wash them in the morning as you must leave the henna for at least 3-5 hours. Natural henna takes some time to leave the color but gives a very beautiful and eye-soothing shade. Remember that the time we mentioned here is for the natural/organic mehndi. If you are using instant color mehndis, available in the market, you should be careful as the chemicals in them can harm your skin if you leave it for a longer time.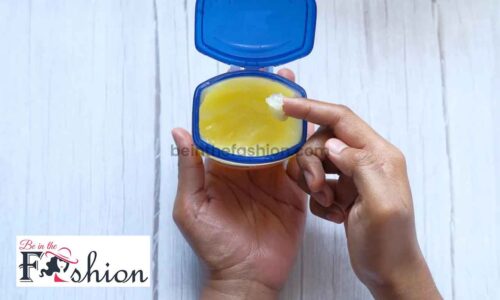 You can apply vaseline on your mehdi designs which will act as a henna color intensifier. After drying the mehndi, put some Vaseline and leave it for the night to secure the color. Vaseline will provide the moisturizer to your hand and help in locking the color. It also helps protect the mehndi design from spreading. It is an easy and simple way to get the beautiful dark color as Vaseline is available in almost all houses as a skincare product.
Apply Ghee (Clarified Butter)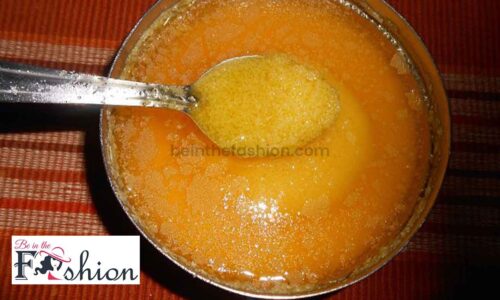 Ghee is a natural thing that you can apply on your mehndi to get a darker and long-lasting color. Ghee will act as a color intensifier so you can apply its thin layer on the design with a cotton ball or brush. Don't layer the ghee while your mehndi is wet. So, once it becomes dry, you can easily apply ghee without any fear of spoiling the design. The Clarified butter (Ghee) will help you in getting the vibrant and beautiful dark color for which you wish. 
Use Vicks
Yes, Vicks that we use to relieve nasal blockage, coughs, pain, etc. You can use it to dark the henna color. The method is different from other methods. After drying the mehndi completely, take it off from your hands and feet without using the water. So, you can remove it by rubbing it gently. After taking it off completely, apply Vicks on the mehndi design and leave it. After some time, you will get a deeper color that will make you happy. 
Conclusion
These are some tips and products that you can use as henna color intensifiers. Here we chose those things that you can easily do and are available in almost all homes. So, you will be able to get the beautiful and vibrant mehndi color by following the mentioned pocket-friendly and easy methods. Remember that the described ways to dark the mehndi color is for the Natural Henna. If you are using the readymade instant colored mehndi, use it at your responsibility. That mehndi has some chemicals due to which you get an instant and darker color, but sometimes those chemicals can damage your skin in various ways especially if you have sensitive skin. So, to avoid any harmful circumstances, it is better to use organic mehndi not only for your hands and feet but if you are using as a hair dye. There are various platforms that claim to sell organic Henna so, you can get that.
For the dark color from the natural/organic mehndi, you need to have some patience but after giving it proper time, it gives a very beautiful color without damaging the skin. It is important to use the products that help you in getting beautiful and flawless skin with your required results. For example, if you get a dark color but with skin damage, then all in vain. So, try to use the best organic products either for your skin or hair. Hopefully, the given suggestions regarding the Henna color intensifiers will be beneficial for you. However, for more updates on Henna/mehndi, remember to visit our website, beinthefashion.com.