In recent years, the trend of wearing maxis on different occasions is at its peak. Girls love to wear a different style of maxis at various festivals. Maxis provides a unique and modern look so you can say it is a show-stopping attire. All women love to wear the maxi as it provides them with a royal look that they can carry with some beautiful jewelry and makeup. It is a kind of dress that you can easily wear at any formal and informal event as it adds sophistication to the personality. You can stitch the maxis in various designs and each design and cut represent the piece of the art. Here, you will see the Formal Pakistani Maxi dress designs that you can choose for the events. 
Generally, a Maxi is a long floor-length dress fitted to the waist and has a huge flare from the bottom. However, both parts are stitched together. As our topic is Formal Pakistani Maxi dresses, here we will talk about heavy and embroidered maxi designs that will be good options to wear at any event such as weddings. At the same time, you can get beautiful maxi designs at a reasonable price from various shopping platforms. So, get one of your favorite formal Pakistani Maxi dress designs and wear it to the event for a perfect look.
Pakistani Maxi Dresses
If we talk about the Pakistani maxis, there are two major types. One in the form of a skirt with a top while the other in a single long piece just like a Frock. Both styles of maxi look very beautiful and elegant. So, you can choose according to your choice. However, there are a lot of various designs of these two major maxi styles, so let's discuss the Formal Pakistani Maxi Dresses here.
It is one of the classic designs of the maxis consisting of the single long piece. However, if you choose the perfect fabric and color according to the event theme and your personality, you will rock. The long embroidered maxis could be a great option to attend any formal event as this dress will never go wrong. One thing that you should remember is that maxi fitting and designing should be according to your body.
Sleeveless Maxi Dresses with Jacket/Mini Coat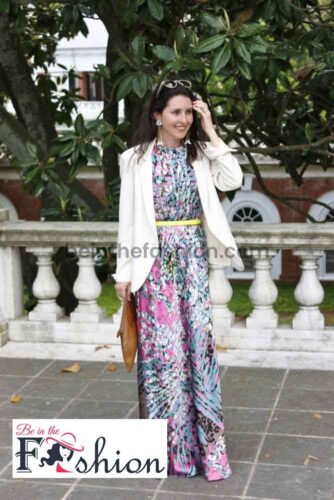 The sleeveless maxi dress looks very beautiful if you add a beautiful mini coat or blazer with it. You can use this design for formal and casual events. However, for formal events or for weddings, you can wear a fancy embroidered coat on the sleeve-less maxi to get a perfect event look. However, if you have an embellished maxi, then it will be great to pair it with a simple or lightly embroidered mini coat or jacket. If you wear both, a coat and maxi, heavily embellished, it might not look that great and take away the decency from your personality. However, you can wear some beautiful jewelry with the dress to elevate your look. 
Maxi with Belt and clutch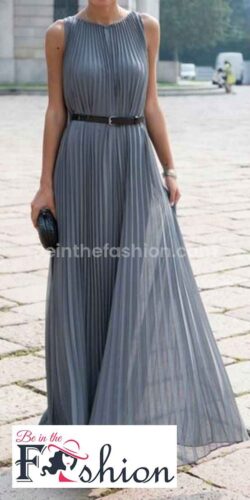 If you want a simple yet elegant look for any formal event, you can put on a beautiful waist belt on the maxi and hold a clutch of the same color as the belt. It will add decency and elegance to your personality and the clutch will play a role in making your dress suitable for formal events. However, here you have to show your fashion sense by choosing the color of the belt and clutch that complements the maxi. 
Bridal Maxi Dresses
When we talk about formal Pakistani Maxi dresses, bridal dresses must be added to your discussion. As compared to other formal maxi designs, bridal maxis are special as they are heavily embroidered from top to bottom with beautiful pearls, thread, or mirror work. There are a lot of maxi designs for the bridal that you can choose such as long single-piece maxi, maxi with front open slit paired with lehnga, etc. so, for the bridal, you will get many designs. Bridal maxis elevate the bride's look.
Embroidered Sleeves Maxi Dress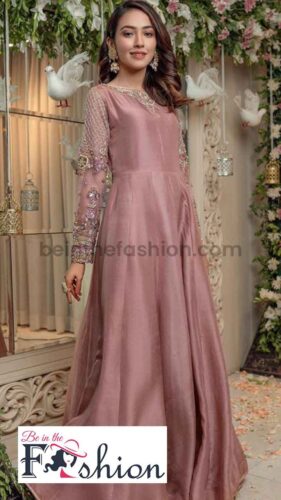 For those females who love to wear simple but classy dresses, this type of dress would be best for them. So, for a simple but event-looking look, you can choose a plane maxi having embroidered sleeves. It will be comfortable and easy to arrange dresses that you can easily carry at any event. However, if you want little work on the maxi, you can do it lightly on the neckline and it will be enough. You can say that it is a type of dress that you can wear at weddings or other events. However, for the more eastern look, you can put a beautiful dupatta on you to increase its elegance. 
Conclusion
So, these are some types of Formal Pakistani maxi dresses that you can wear at any event to get a beautiful look. The designs of the maxi look very beautiful and it increases the beauty. However, it is also important to wear it correctly for the perfect appearance that we want. We know that a maxi is a long lighted dress but keep in mind that it should be too long. At the same time, the fitting of the maxi should be perfect according to your body because loose maxis don't look good and destroy the beauty of the dress. Choose that prints or designs, that go well with your body and personality. In short, always choose a style and designs, that you can carry with grace and confidence. These are some tips that you must remember while wearing a maxi.
Pakistani dresses are popular due to their beautiful and unique styles, so here we share some formal designs for the events. However, if you want to get more ideas regarding Pakistani dresses, you can visit our website, beinthefashion.com. We have different Pakistani dress ideas for brides, formal and casual looks, etc. Besides that, if you have some suggestions in your mind, you can share them with us. We would love to hear your constructive feedback.