Mehndi is a special part of every wedding; every girl wants to make her hands full of mehndi with different designs. Mehndi is a part of traditions that occupy every happy moment. You can enjoy happy moments with mehndi styles, colorful dresses, and with traditional norms. It depends on how you celebrate your special day. If you are planning your big day, choose the mehndi designs for wedding season.
Mehndi is part of creativity, and a person shows her creativity through special designs on her hands. The hands look more beautiful and amazing with cultural and traditional significance. The mehndi designs look more attractive on the hands, feet, and arms. The brides go with long patterns of mehndi on their hands and foot and look superb with such patterns of mehndi designs. You can search out stylish mehndi designs for attending the wedding.
Be in the fashion guides about elegant and lovely mehndi designs that can make an amazing look of your hands. If you are looking for some new Mehndi designs, simple? Then don't worry, here you can get the amazing results.
What is Mehndi?
Mehndi, also known as Henna, is a traditional body art used for centuries to adorn the skin for special occasions, such as weddings. The intricate designs and patterns created by Mehndi are not only beautiful, but they also hold cultural and spiritual significance.
Wedding season is the perfect time to spot beautiful mehndi designs. Bridal mehndi designs are typically more elaborate and detailed designs. The designs often include traditional symbols, such as the paisleys, floral patterns, and the bride and groom's names or initials. Bridal mehndi designs are often applied to the bride's hands and feet but can also be applied to the groom's hands.
The art of mehndi is rooted in ancient cultures, with evidence of its use dating back to ancient Pakistan, Egypt, and India. In the past, mehndi was mainly used by women, but today it is enjoyed by people of all genders and ages. The mehndi designs are typically applied to the hands and feet but can also be applied to other body parts, such as the arms and legs.
Top Mehndi Designs 2023
Modern and fusion mehndi designs also incorporate elements from different cultures and styles. For example, you can find mehndi designs that combine traditional Indian and Arabic patterns with modern Western characteristics, such as abstract shapes and geometric patterns. Some modern mehndi designs also incorporate elements of pop culture, such as cartoon characters and pop stars.
Arabic Style
The popular mehndi style is the Arabic style. It is the most traditional mehndi style that has floral and beautiful patterns. These patterns are more common on eid days and wedding seasons. Such designs are elegant and famous in Indian and Pakistani countries. The mehndi styles are complex and have detailed patterns. If you are looking for traditional mehndi designs, the Arabic design style gives a stunning effect.
Pakistani and Moroccan Designs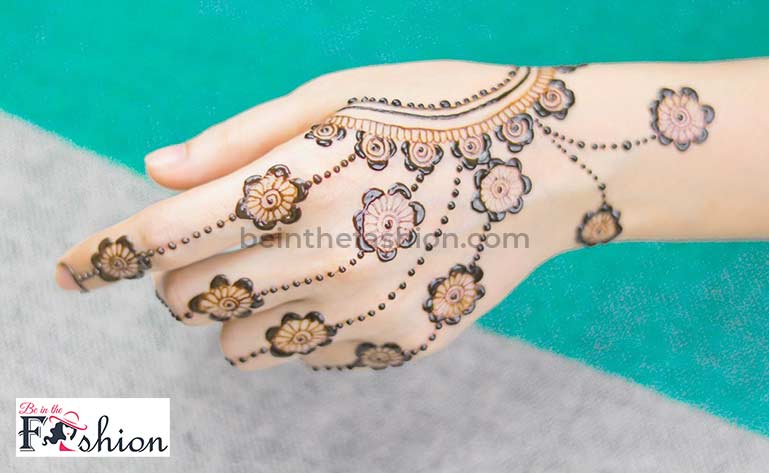 Some other designs are more common nowadays. Such are the top mehndi designs that are more common among the girls who do go with the heavy designs. Girl like having natural and elegant beauty for their wedding season.
Such Pakistani and Moroccan designs are more common now as they look  different from the traditional styles. With the right design and style, you can add beauty to your celebration.
Heavy Mehndi Designs
Different heavy mehndi designs look more beautiful on the wedding day. Such heavy plans are better with the brides as this gives a perfect look to the bride. You can choose various designs and apply them to your hands to enjoy the wedding celebrations.
When choosing a mehndi design for your wedding, it's important to keep in mind your personal style and the theme of your wedding. It's also a good idea to work with a skilled Mehndi artist who can help you create a beautiful and meaningful design. You can add names in the mehndi styles on your wedding day to give a more elegant look for your day.
Conclusion
Mehndi is not only for the bride; it is for the bridesmaids, mothers, and sisters of the bride and groom. Such designs can be a fun and bonding experience for the bridal party, as they can all get mehndi designs together.
Mehndi is a beautiful and meaningful addition to any wedding. It adds a touch of elegance and tradition to the occasion and serves as a lasting reminder of the special day for the bride and groom. With so many different styles and designs, there's something for everyone to choose for the big day.