Today, we will talk about the Men's Traditional Dresses in Pakistan in detail. There are many types of traditional wear that men wear in Pakistan based on the area where they live. Pakistan has 04 provinces, a Federal territory, and a few autonomous regions. So, each province and region has its own traditional and cultural values; likewise, each area has some traditional dresses representing that part of Pakistan. So, here we will discuss as many Pakistani cultural dresses as possible from this article. 
If we talk about Pakistan's provinces, Sindh, Balochistan, Punjab, and KPK.. Each province has cultural dresses, such as different kinds of Trousers and shirts, Caps, and Jackets. So, now let's begin to discuss our Topic, "Men's Traditional Dresses in Pakistan," and you will also see the details about which dress you can wear for the cultural festivals. 
Pakistani Traditional Dresses for Men
Below is information about various kinds of traditional men's dresses that represent Pakistan's different cultures.
Shalwar Kameez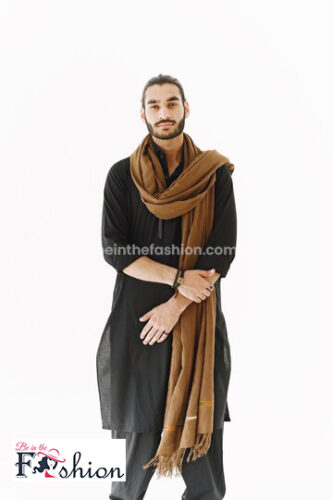 Shalwar Kameez is a national dress of Pakistan and is worn by men in all provinces. However, each province and region has its style. Shalwar Kameez is usually with a straight cut. However, different regions of Punjab have a regional touch in styling the Shalwar Kameez and are known by the name of the specific region. According to the traditional Shalwar Kameez, the length of the Kameez (Kurta) extends to the knees. Usually, men love to wear a shalwar Kameez with a waistcoat, and it increases the beauty of the dress. 
Regional Dresses of Pakistan
If we talk about regional dresses, you will find a unique style of each area according to their cultures. As mentioned above, Shalwar Kameez is the national dress of Pakistan, but all regions have different clothing styles. In Punjab, people wear simple Shalwar kameez, sometimes with a waistcoat. The Sindhi people wear it with the traditional Sindhi Ajrak (Shawl) and hat. 
If we talk about Balochistan, Balochs usually wear wide shalwar with a thick fabric, and they wear it with a special Balochi turban on their head. However, Pathans, people of KPK, usually wear traditional chappal (footwear) with the Shalwar Qameez. 
Sherwani
Sherwani is also one of the ethnic dresses that men wear at different events. It is a long coat in different styles, having a knee-long length. You can wear a simple sherwani, which is mainly worn at festivals, especially weddings. So, to make it special for weddings, usually, Sherwanis has a different type of pattern, embroidery, or goldwork. Sherwani is paired with the Shalwar Kameez. 
Other than festivals, government officials also wear official sherwani at different national meetings/gatherings to follow in the footsteps of the founder of Pakistan, Quid-e-Azam. However, a simple black sherwani on Shalwar kameez is used for the official meeting. 
Traditional Pakistani Dresses
As mentioned above, we mentioned that Shalwar Kameez is the national dress of Pakistan. Now, we will talk about other kinds of dresses from all regions of Pakistan. So, the types of dresses men wear in different Pakistani areas are discussed below.
In Sindh, Shakwar Kammez is known as Cholla & Suthan. Sindhi people wear their traditional hat and a shawl called Ajrak. Ajrak is a long-length piece of cloth that men wear as a shawl on their shoulders or as a turban on their heads. Sindhi Cap has different styles, usually seen with embroidery, mirror work, etc. Other than this, there is also a traditional wear in Sindh, usually among the oldest people called Dhoti. Dhoti is usually a comprehensive piece of unstitched cloth that men wear instead of a Shalwar with a Kurta. 
In Punjab, Shalwar Kameez is mostly with simple straight cuts. Other than simple style, there are different styles of Shalwar worn in Punjab, such as Multani Shalwar, Bahawalpur Shalwar, and Pothihari Shalwar. The names of these dresses represent their origins, which have more layers than the simple Shalwar. In Puanjb, a turban is known as a Pagri, which usually men wrap around the head. Pagri is mostly wear in the rural areas of Punjab. 
Baloachisatni usually wears a long, frock-like dress with a loose Shalwar. They wear shawls on their shoulders. However, they mostly wear long jama with flat shoe that becomes narrow at the toe. Balochi dresses have specific patterns on their clothes.
Kyber Pakhtunkhwa Dresses
The people of Khyber Pakhtunkhwa are Pathans, known as Pashtoons. The Pashtun males usually wear traditional clothes called Khet Perg paired with Peshawar Shalwar. This dress represents the KPK culture. However, dressing style could be changed from one area to another, but Pashtoons wear Peshawari chappal. However, the headwear KPK is "Pakol." 
Gilgit Baltistan & AJK Dress
In Azad Jammu Kashmir, the traditional Shalwar Kameez is known as Pheran. Pheran has a different style. However, the residents of Gilgit Baltistan wear Shalwar Qmaeez with a waistcoat and cultural cap, "Khoi." 
Conclusion
As we talked about Men's Traditional Dresses in Pakistan, this article covers the cultural dresses of all regions. As we know, in Pakistan, the most followed religion is Islam. So, Muslims try to dress up according to the Islamic teachings. However, each region represents itself according to Islam due to cultural and traditional values. However, our dressing sense and style have changed over time, but we still find the essence of some traditional values in our dressing.
People love to wear ethnic dresses. You can wear traditional dresses not only for casual events but it is trendy to wear a Shalwar Kameez at weddings. However, you can style up the dresses by wearing waistcoat coats or taking some fancy shawls on the shoulders. So, it is up to you how you can style the traditional dresses with your fashion sense to look trendy and elegant. 
Here, we tried to cover as much as we could. However, you can contact us if you have other helpful information that we can add to our article. We love to listen to your constructive feedback. You can also visit our website Be in The Fashion for the latest updates regarding the different fashion styles for men and women to stay updated.
You'll also like to Read about Pakistani Wedding Dress for Man.