Having healthy hair is one of the great blessings, and all of us want healthy and shiny hair. Sometimes, our hair gets damaged due to our negligence, and we can't take care of our hair and scalp properly. Due to this, we get frizzy, damaged, and split hair that doesn't look good. Everyone has different hair textures, such as silky, straight, and curly. Regardless of hair textures, if you have healthy and shiny hair, it will look great in any hairstyle. So, we should care for our scalp and hair using proper products and natural remedies for dandruff and itchy scalp and strengthen our hair. However, there are Protective Hairstyles for healthy hair so you can stylishly save your hair. 
There are many reasons why our hair is affected, such as our negligence, environmental factors, overheating, etc. Most of the time, we heat our hair to style it in various ways, such as by straightening, curling, blow drying, etc. Over-use of heating appliances damages our hair badly. We should minimize these as much as possible. However, always apply heat-protecting serums so your hair doesn't get direct heat. 
It is very important to give proper care to your hair. If you have healthy hair, you can make any hairstyle according to your choice. However, choose those hairstyles that match your hair texture and face cut. So, without wasting time, let's move towards our title, Protective Hairstyles for healthy hair.
Hairstyles for Protective Hair
When we talk about the hairstyle, you will hve a lot of options. But the ideal ones are those that not only give to a great look but also protect your hair from damage. So, here we share some protective Hairstyles for healthy Hair. At the same time, we have also been guided to create hairstyles. 
Braided Bun
If you have thin hair that could break easily, don't tie them tightly. Try some loose hairstyles such as low braided bun. You can create the Brainded bun look through the following method:
Tie your hair at the head back to make a ponytail. Make a loose, three-stranded braid and wrap it around the ponytail to make a bun. Secure that braided bun with the pins, and enjoy your day with your beautiful hairstyle.
Twisted ponytails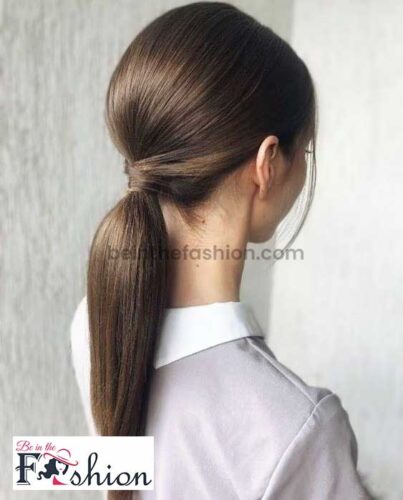 Sometimes, we tie our hair too tightly in a high ponytail. It looks great but can damage our hair by breaking it. We should go with a loose hairstyle that looks pretty without affecting our hair. So, here we suggest a twisted ponytail that you can create through the following method.
Tie your hair in a ponytail and part it in two sections. Twist one section gently and secure it with a rubber band; do the same with the other section. Then, twist both sections together and tie a band at the end to secure the hair. 
Low Bun
It is a classy hairstyle that not only gives you an elegant look but also protects your hair. You can make the loose bun by wrapping your hair around your fingers and then securing it with the pins. However, you can also make it after tying your hair in a ponytail. Make sure not to tie your hair in a tight ponytail. 
Half Braid
If you are tired of the simple ponytail, you can tie your hair in a half-braid. For this, you will braid from the hairline to the midsection of the hair. However, you can make simple or french braids according to your choice. You can create this look with the following method:
Make a braid of your choice till the back of your head and tie them. Leave th remaining hair untied like a ponytail. After tying your braid, you can pul some strands to loosen it for a pretty look. 
Half Bun
In this look, half hair is tied in a bun, while the remaining are open. This hairstyle is to protect the front stands to hair. It is very easy to make and looks very pretty. You can create this look on short or long hair by the following method:
Take two small sections of hair from both sides of your head. Tie them together in the form of a bun at the middle of the crown of the head. Here is your half bun ready, so enjoy your day.
Two Braids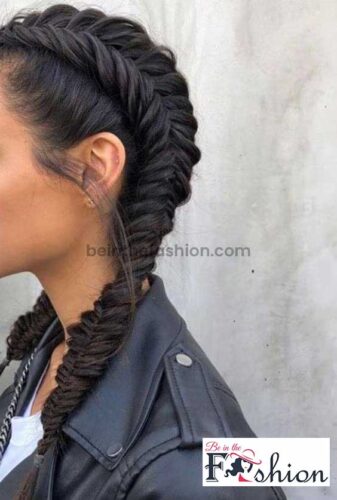 Among all hairstyles, braids are the best way to protect your hair. However, if you don't want a simple braid, you can make it pretty by putting in some effort. You can make two braided hairstyles from both sides of your hair. To make two braided hairstyles, you have to:
Divide your hair into two equal sections from the middle. Start to tie hair in a braid from the forehead and keep braiding by taking the remaining hair. Secure the hair with a band and do the same procedure with the other section. The style of braid could be any of your choice. 
Loose High Bun
Hair buns are also in trend and look effortless. You can secure all hair in a bun loosely. There are many methods to make the high bun.
You can collect the hair at the height of your choice and wrap it around the ponytail to make a neat, round bun. Don't make a tight ponytail; leave hair loose by pulling some of the hair from the bun. To make a messy bun, pull some strands out of the bun and secure them with pins to get your desired look. 
Conclusion
Here, you get some Protective hairstyles for healthy hair that you can make easily without the help of others. The hairstyles we mentioned above can be created daily, some of them in any event, using beautiful fancy hair accessories. There are a lot of other hairstyles. If you want more, you can comment, and we will provide your required information as soon as possible. However, try to make that hairstyle that can't damage your hair. There are many ways to keep your hair healthy. So, you should follow the proper haircare routine to keep your scalp clean and hair shiny and strong.