Are you a bride-to-be looking for the latest Mehndi Designs for Modern Brides? Here, you will see the styles of the Henna that are in the trends nowadays. In South Asian Countries, particularly Pakistan & India, It is a culture to apply Mehndi. Mehndi Symbolizes the Prosperity of marriage and love between Couples and family members. According to the old sayings, the darkness of the mehndi color represents the love between the couple.
Applying Mehndi on the Hands and feet of the Bridal is considered compulsory for wedding functions. Everyone has a choice; some want heavy and full-length Mendi designs, while others prefer minimal designs. Below, we provide the latest Mehndi designs for Modern Brides. So, you can choose any of the designs according to your choice and use them for your big day.
Minimal Mehndi Design
Nowadays, most brides prefer the Minimal Mehndi designs to long and heavy designs. Some girls don't like the Menhdi smell and the red henna color around their hands. So, they also want the simple yet elegant designs. In the Simple techniques, there are many patterns that you can choose and enjoy your mehndi, such as simple circular designs in the middle of the hand with some designs on the fingers or some geometric designs. Below, we have uploaded some pictures of the Latest Minimal Mehndi designs for the girls.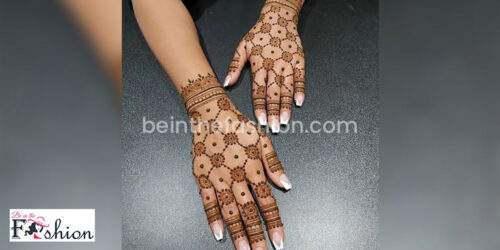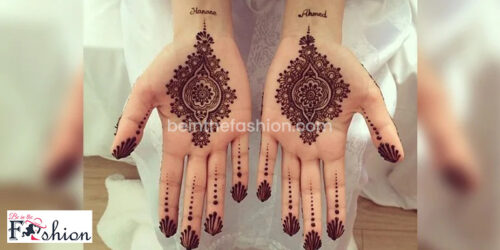 Pattern Mehndi Designs for Bridals
The pattern Mehndi designs for the newlywed bridals are also in trend. These are the creative designs where you can create different patterns/shapes. It looks unique and beautiful through the naked eye and even in photographs. These designs are also the best option for those who don't want to apply the traditional heavier henna on their hands. So, Pattern-based Mehndi is the best option for brides looking for unique designs. Below are some images of the Pattern-Based Mendi Designs.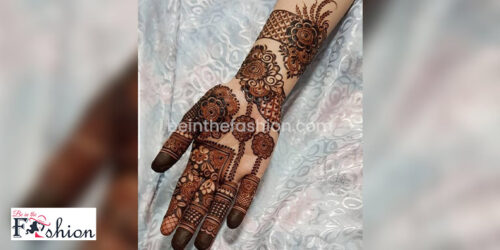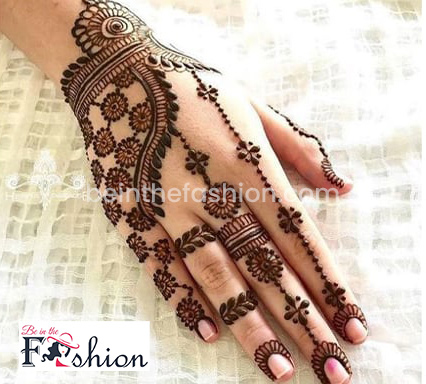 Bride and Groom Portrait (Story Telling) Mehndi Designs
In the new brides, the mehndi design, having the bride and groom portraits on their hands, is also in demand. In this design, the mehndi artists sketch the bride and groom between the other patterns. It is a customized Menhdi design where you can tell some stories through sketches or write some statements.
These mehndi designs are for those who love traditional long-length and heavy designs because they cover almost every inch of the bride's hands. However, these designs look pretty and have a special place in the couple's hearts as they represent their stories through the Mehndi. Below, we have shared some ideas for the storytelling Mehndi Design for Modern Brides.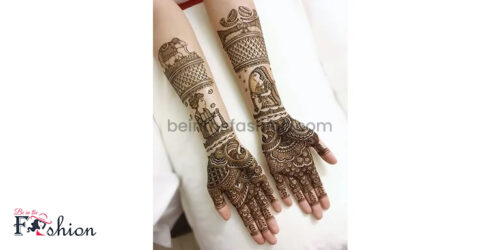 Lotus Flower Mehndi Designs
The Henna Designs having the Lotus Flower pattern are also popular among the new brides. The Lotus Flower has special meaning in various cultures and symbolizes beauty, Eternity, Fertility, and spirituality. However, this type of Mehndi can be applied on the front or Backhands. Brides can choose any other Mendi designs with the lotus Flower Mehndi designs, such as Arabic, Indo-Arabic, etc. However, each girl has a choice; some choose many small lotus patterns in their Mehndi, while others prefer one giant lotus flower in the middle of their palm. We have uploaded some ideas of the latest mehndi designs, so you can check below and select anyone of your choice.
Mandala Mehndi Designs
Mandala Mehndi Designs comprises the central Henna Pattern surrounded by flowers and leaves. It is one of the minima Mehdndi designs, but it looks gorgeous and eye-catching. Depending on the choice, these patterns could be designed on hands and feet. You can say that mandala Designs of henna are simple designs you can use for everyone. Below are some images through which you will get an idea about the latest Mehndi Designs. However, you can change some patterns and make it customized.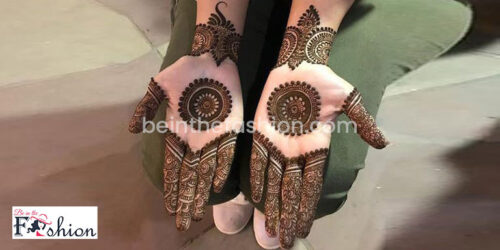 Floral Pattern Mehndi Designs
Floral Mehndi's design is back in fashion. The floral pattern has a minimal to Full-hand Mehndi design. Some girls like to craft the tiny flowers in one or two bunches with some other patterns and make it minimal. On the other hand, you can also apply the Floral design Mehndi from the Arm length. We have also seen that some females like to apply the small bunches of henna on their fingers only. So, everyone has their choice. You can see the images of new Floral Mehndi Designs for Modern Brides.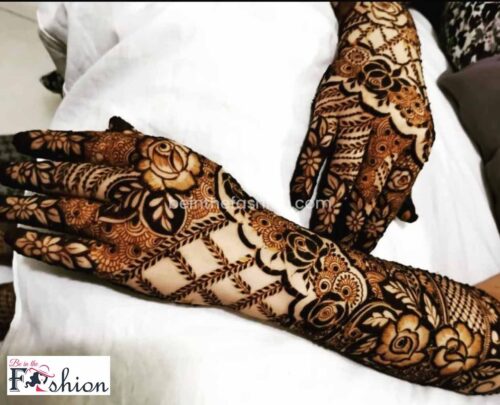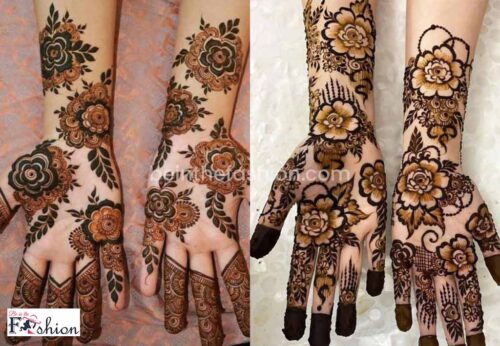 Jewelry Mehndi Designs
As its name shows, it is one of the creative ideas in Mehndi's designs. These designs consist of the handcuff and fingers connected through the dots or small flowers in a modern way. This type of design looks very pretty. It is also a Minimal Mehndi design, and there are various ways to apply the designs on your hand. Here, we have provided the ideas so you can check them anytime.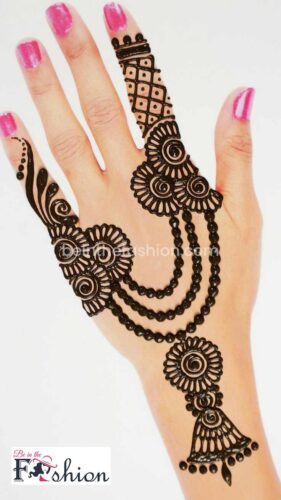 Mirror Mehndi Design
In this kind of Mehndi, the designs on both hands are precisely identical, like the mirror image. You can apply this pattern to your hands from the entire arm's length. However, you can also apply a Mirror Pattern Henna design on your feet. Here, you will get ideas about the latest Mirror Mehndi designs for Modern Brides. Below, we have uploaded some images that you can check.
Conclusion
We all know that Mehndi is not only applied for wedding functions, but sometimes, girls apply it in other small festivities. So, it is a source of happiness. In this article, our main aim is to provide you with the latest Mehndi designs for Modern Brides.
So, here we have covered some of the Mehndi designs that are in trend and new brides prefer to apply. However, if you want to change the designs, you can mix various patterns and make a new one according to your preferences. This article will significantly help you; you will use and share the designs with your friends and family. Besides this, you can visit our website anytime for the latest news on the Latest Fashion Trends in Pakistan of dresses for men and women, trendy Medndi design, as well as blogs on Health and beauty.