Do you want to know about High Fashion Makeup and its techniques? Here we will talk about some High Fashion makeup techniques that you would love to know. But before this, we will talk about what High Fashion Makeup looks like. There are many makeup techniques and types, some you can do at home, while for other looks, you have to visit a salon for professional makeup. So, High Fashion makeup is a type of professional makeup done by experts and makeup artists. 
The High Fashion Makeup is used for catwalk models or clothing advertisements. It is a kind of bold makeup especially on eyes and lips with some unique looks. So, you can say that it is the same as playing with bold, dramatic colors on the face for the statement look. The makeup requirements for the catwalk or on runways are different because of a lot of lighting that can reduce the simple makeup look. So, for the runways walk, it is required to create some statement looks to elaborate the features. 
As catwalks are mostly for clothing advertisement, it is important that makeup artists and designers have effective collaboration with each other. This collaboration helps the makeup artist in understanding the clothes's color scheme and the theme/thinking of the designer behind that dress to create a unique and eye-catching look. At the same time, makeup artists should have enough skills and creativity so that they would able to create any required look by showing their abilities and professionalism. Now let's talk about some high Fashion Trends techniques.
Techniques of High Fashion Makeup
Below, you will get the details about the High Fashion makeup techniques and trends that you can follow the create innovative makeup looks. 
Graphic Eyeliner
For the runways, graphic eyeliner is a popular makeup trend making the eyes bold and colourful. There are various ways to apply the graphic liner to make the abstract design such as bold lines, negative spaces, and some geometric shapes around the eyes. If we share some more ideas regarding the graphic eyeliners that could be floating crease, open-ended, double floating, doted, and colored graphic eyeliners. 
The graphic eyeliners look beautiful and have a mesmerizing effect on the runways. However, it is not suggested to get this bold eye look in daily life. 
Statement Lips
In the high Makeup fashion, bold and statement lips are essential. For the statement lips, makeup artists challenge to use daring colors for a strong visual effect. So, for this look, dark and colorful lipstick goes well such as deep blue, black, purple, Multi colors, and metallic. Statement lips are generally for the runways to give a vibrant and artistic look. However, this type of makeup is not recommended for daily makeup looks. 
Face Embellishment
Face embellishment is another makeup type of high-fashion makeup used on models for catwalks. To create the embellished look, rhinestones, pearls, feathers, etc., are put on the faces of models. These embellishments are placed on the face strategically to create a texture and fantasy sense. We can say that makeup artists use faces as a canvas to show their creativity and imagination. Face embellishments could be used by different celebrities for their photoshoots, for an award show performance, etc. However, for daily life, face embellishments should be very limited but often not comfortable.
Metallic and Foiled Eyes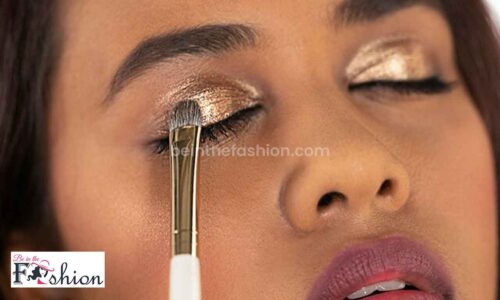 Another popular makeup look for high fashion or runways is metallic and foiled eyes. This look is to create dark-colored, shimmery eyes with some dimensions. So, for this, artists use some unexpected and surprising colors to create bold eyes. This eye look is one of the best and most chosen for the runway walks as it gives a sense of artisticity and ethereal vibes. However, for the daily eye makeup, a metallic look will be extra, however, you can go with some subtle makeup shades.
Blurred and Watercolour Makeup Effects
To soften the edges of the eye color and lips, blurred and watercolor effects techniques could be used. This look gives a soft and simple effect. You can create the watercolor effect by using any two colors in pink or rose tones. However, the blurred and watercolor makeup can be used for the eyes, and cheeks makeup according to the requirement.
Conclusion
So, here he discussed high fashion makeup and its different makeup looks and techniques. After reading this article, you have gotten an idea that this makeup look is not for the everyday makeup look as these have dramatically exaggerated elements. However, these runway looks are conceptual and artistic without any doubt that are totally opposite to the traditional makeup. So, the High fashion makeup is best for the runways that have a lot of lighting effects.
To create different fashion makeup looks, makeup artists should be confident and daring to play with different colors and use them wisely on the face. So, high fashion makeup artists soluble be professional and skilled in creating looks that can go well during a function under a lot of lighting and heat effects. Make-up artist has a huge responsibility to choose the best products and techniques so that everything goes well and their skills speak out. So, being a fashion makeup artist, you can play with different colors to check your artistic skills. This practice will help you a lot to make better decisions regarding the makeup looks. 
Through this article, we shared some fashion Makeup techniques and looks. Hopefully, now you have an idea about what is fashion makeup. We can say that for fashion makeup looks, the model's face is like a canvas, and makeup artists show their artistic skills on the face to create some bold and eye-catching looks. However, that's all for today. We will come up with some new topics and makeup looks so remember to visit our website. There are a lot of things that you will see regarding the makeup and fashion trends on our website. However, don't hesitate to contact us and give us your constructive feedback.